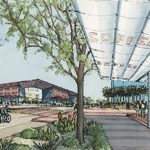 The City of Phoenix has done it again. On July 1, 2015, Council passed an ordinance for a Walkable Urban Code, also known in shorthand as the WU-Code. And where there's a WU-Code, there are ways to help build healthier, more enjoyable, more economically strong neighborhoods.
The WU-Code's objective is "placemaking," creating neighborhoods of walkability and sense of place that connect to each other by rail. A member of the Reinvent PHX Steering Committee explained the overall goal more simply: "it favors the human experience."
At the core of the WU-Code is "transect-based" planning, a practice successfully implemented in other U.S. cities to ensure that development along the light rail combines (1) variety (grocery, housing, restaurant, etc.), (2) changing scale (apartments, townhomes and single-family homes) and (3) types of design and placement that make walkability useful and viable.
It's been a big couple of years for Phoenix and its residents' health and well-being. Council already passed a city-wide Complete Streets ordinance in 2014 to help spur context-appropriate changes in walkability, bikeability and transit access city-wide. Earlier this year, the city approved recommendations from Reinvent PHX, a series of development plans for five districts along the light rail line. The WU-Code is aimed at those same districts, and it represents another important step forward.
A city typically derided for sprawl is most definitely changing in dramatic ways, and the impact of those changes represent strong opportunities to improve well-being and health in our daily lives.