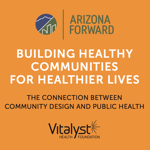 Join Arizona Forward and Vitalyst Health Foundation on May 12 for an engaging half-day summit featuring compelling keynotes and intriguing dialogue.
Oklahoma City Mayor Mick Cornett will kick off the morning by showcasing an array of infrastructure changes and cultural changes that have triggered the collective weight loss of 1 million pounds and transformed his city. David Grossman will discuss the International City/County Management Association's efforts to promote the intersection of economic vitality and public health. A mayoral/city manager panel will bring the presenters' remarks home to Arizona.
It's a not-to-be-missed opportunity to dig into the issues surrounding urban planning and healthy community design. Learn more and register today.