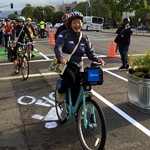 Livability – it's one of those things you've got to experience examples of in order to understand it. When it comes to the bike-ability of cities and towns, compelling temporary examples popped up in cities like Oakland, Lawrence (KS), Minneapolis and Atlanta – and streetsblog has the pictures that tell the story.
Hidden underneath the feel-good fun of these demonstrations and who rode in those bikeways is this truth: painted bike lanes aren't enough to encourage healthy, active transportation for a large percentage of residents. People for Bikes explains, and research verifies, that maybe eight percent of the population will brave bike lanes, but as much as 68 percent could be engaged by protected bikeways. All we have to do is to "build it for Isabella."
No one's arguing that the investment will be insignificant to achieve such goals. But the first step has to be a desire to get there, with an understanding of the imperative. Protected bikeways aren't "nice to have" so much as they can serve as an important means to trigger health, community vitality and economic growth. If we build it for Isabella, we'll be building not just bikeways, but lanes to health, well-being, and a better Arizona future too.