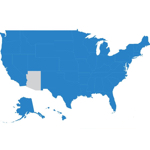 The only state in the country without an active Children's Health Insurance Program (known as KidsCare in Arizona) sure has spent a long time talking about whether or not to bring it back.
In January 2016 the Arizona Republic published the opinion titled "Restore KidsCare. It's a No Brainer." More than three months later much has been made of how the program would have no impact on the state budget (it is 100% federally funded through 2017) and how restoring the program would help an estimated 30,000-40,000 children gain insurance coverage. Two bills proposing KidsCare were not given a hearing on the Senate floor.
On April 13, new evidence appeared. The Grand Canyon Institute released a report that restoring KidsCare would bring Arizona $75 million in economic benefit in the next year. That amounts to significant icing on the cake of helping our children get well and stay well. On April 24, the initial state budget draft included no provision for reinstatement.
At the heart of all the discussion and analysis is the basic notion that when our kids thrive, our state increases its capacity to thrive. The first step comes in ensuring that we care for our children in ways that make a healthy and productive future possible.
More than three months have passed. Many have had their say. As opportunities to restore KidsCare dwindle, it turns out we are right back where the Arizona Republic started. Arizona is still the only state in the nation without an active program, and restoring KidsCare is still a no-brainer.