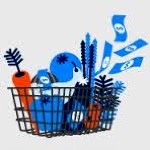 Somehow, our state has 15,000 farms and ranches, but access to healthy food remains an obstacle for many. That is one of the key reasons why SLHI is partnering with stakeholders to develop a Maricopa County Food Systems Coalition. The initial thinking is for the coalition to build cross-sector relationships, create opportunities, develop new ideas, and serve as a space for dialogue that spurs a better food system.
When goals are big and far-reaching, we've got to work together. When the goal is to create a future of economic growth and vibrancy through healthy foods, you better believe that we'll need all hands on deck.
The work is complicated. It will take stakeholders working in a collaborative effort. Growers, producers, advocates, planners, food banks, policymakers, and project developers all need to be at the table to make this work.
Join us. There are two "first" coalition meetings to choose from and you're invited. To RSVP, click here for February 12 and click here for February 13.