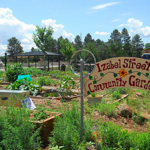 Arizona is back in the growth business – at least as far as community gardens all across the state are concerned.
The Arizona League of Cities and Towns and St. Luke's Health Initiatives partnered to produce the webinar "What About All These Community Gardens." For the next 30 days, this compelling webinar recording is available for your viewing. It features three diverse cases:
The remarkable story of Payson's hugely successful 4-acre project that was built and is sustained without any city funds.
Flagstaff's city-led investment in nearly a half-dozen neighborhood plots, and its incorporation of community gardens into city code.
The considerable policy progress made in the city of Phoenix to transform gardening from an illegal activity into the opportunity to build community-driven assets for health and well-being.
You'll even get an introduction to Los Angeles Guerilla Gardener Ron Finley, via an excerpt from his hugely popular 2013 TED Talk. From anecdotes about Payson's first community garden wedding to the hard work of changing policy and form-based codes, this webinar has it all. Watch it today.