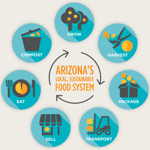 Try googling the words "Food Policy Coalition." You'll notice that there are a lot of them across the country. You won't yet find much for Arizona, but in Maricopa County that's changing right now.
St. Luke's Health Initiatives has brought national consulting firm Ag Innovations to the table. This spring, "start-up" meetings have been held with more than 150 partners. Together, we are establishing the Maricopa County Food Policy Coalition. Cameras captured the thoughts and actions of one of these meetings. Watch our brief video now to get a sense for what key partners are thinking and where the coalition is heading.
Coalitions like this one focus on building sustainable, resilient, locally-based food systems. In doing so, they address the process from the planting of seeds to post-consumption composting.
Here in Maricopa County we've barely begun. We're calling on everyone interested in or connected with food systems – such as growers, distributers, independent grocers, retailers and restauranteurs – to join the coalition during this start-up phase.
A coalition's strength and effectiveness depends on the reach and resources of its constituent members. We strongly encourage any interested parties to complete our brief online input form today. We'll follow-up directly, answer your questions and get you connected.
Together we'll do more than we could individually to innovate and improve access to healthy foods that are produced locally and sustainably.