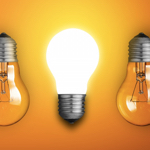 It's not the idea. It's what you do with it.
In April 2015, SLHI completed its second round of Innovation Grant funding focused on ideas that trigger policy and systems change. This year we also developed a special collaboration that resulted in additional grant funding.
SLHI awarded $375,000 to three grantees. The Arizona Community Foundation (ACF) funded a fourth grant applicant for $100,000. ACF staff joined SLHI to review the grant proposals. Thanks to the collaboration, applicants gained an audience with two potential funders via one submission to SLHI. The process itself became richer, and it resulted in two foundations funding more great work.
It's no small task creating insightful approaches to systems and policy change. We congratulate those who are raising the bar. The Arizona Community Action Association is improving health through the prism of reducing poverty. The City of Phoenix FitPHX program is attacking obesity by enlisting doctors to write physical activity prescriptions for children. Cultivate South Phoenix (CUSP) is transforming an empty lot into a hub for healthy foods. The RightCare Foundation is building out a resuscitation system where there currently is none.
The 2016 grant opportunity will formally open in Fall 2015, but you can get connected and get started today. Click here to complete a short Innovation Grants 101 inquiry form.