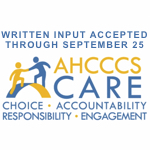 Arizona operates AHCCCS, the state's Medicaid program, through a federally-approved waiver that is due to expire on August 30, 2016. On August 3, Arizona took the first step toward renewing its waiver when the state announced AHCCCS CARE. From now through September 25, 2015, you have a chance to weigh in.
Among proposed changes are co-pays for certain services, participation in a Health Savings Account, and requirements for meeting certain health goals and job search activities. You can find the official two-page fact sheet here, as well as local news coverage here, here and here.
Any interested person or organization can submit written input via email (publicinput@azahcccs.gov ) or traditional mail (AHCCCS, c/o Office of Intergovernmental Relations,801 E. Jefferson Street, MD 4200, Phoenix, AZ 85034).
AHCCCS provides managed care to Arizona's most vulnerable population. It has historically been smart in adopting research-backed best practices in doing so. Constructive dialogue, input and feedback submitted before September 25, 2015 will help keep it that way.