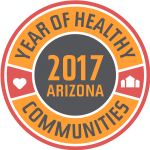 We just wrapped up the sixth edition in our series of Year of Healthy Communities webinars, and once again our four panelists were left wishing that they could've continued the discussion for another two hours. True to the ethos of this effort, cards were exchanged, and one coffee-shop meeting immediately took place so that new collaborations could be pursued with the aim of improving health and well-being.
Wondering what you missed? Replay the recording online to hear from our amazing panelists. John Dacey from Abolish Private Prisons talked about the work of transforming systems and policies to improve community safety. Tiffany Halperin from the Urban Culture Design Project dug into the very real solutions needed in terms of Community Design. Tara Briscoe delivered the Arizona Sustainability Alliance's strategy and projects focused on environmental quality. And Kenneth Steel shared Maricopa County Department of Public Health's efforts related to community shared use of school grounds and facilities. Listen here.
Then, join us on January 16 from 10:00 am-11:00 am for our final webinar – the one where we settle the cliffhanger question of what happens next once the 2017 Year of Healthy Communities wraps up.  Register for the webinar today.