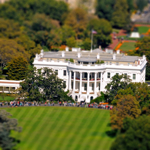 Arizona has lately felt like the far west wing of the White House. Agriculture Secretary Tom Vilsack, Vice President Joe Biden, Health and Human Services Secretary Kathleen Sebelius, and Presidential Senior Advisor Valerie Jarrett have all visited in the past month.
They've come because Arizona is one of the few states implementing both Medicaid Expansion and the federal Health Insurance Marketplace. What they got to see first-hand was the great work of the 600 member organizations that make up the Cover Arizona Coalition.
It's important to pause for a moment and recognize that Arizona pulled itself together in remarkable fashion during this first enrollment period. The Coalition made the most of limited resources and navigated a dizzying array of issues, questions and challenges. If so many had not come to the table so willingly, Arizona would not be where it is today in terms of dramatically increased coverage and access to care for its residents.
This enrollment period may be coming to a close, but the work of increasing coverage goes on. Coalition members will meet in early April to assess their successes, lessons and opportunities to improve. Individually, they know that coverage is key to improving health and well-being. Collectively, they have improved their capacity to get more people on that path in six months than at any other time in the last 50 years.