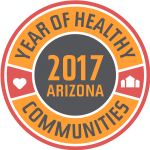 The fifth webinar of our Year of Healthy Communities series is complete. That means you can now tap into the discussion on your own time by accessing our webinar replay.
Maggie Messerschmidt from The Nature Conservancy, Leslie Dornfeld from Plan-et Consulting, Dale Larsen from Arizona State University, and Dagoberto Bailon from Trans Queer Pueblo each weigh in on their work and its contribution to health and well-being of Arizona's people and places.
The focus of this conversation related to the Elements of Environmental Quality, Community Design, Parks & Recreation and Community Safety. We'll be hosting another webinar in November on the same Elements, and we welcome your feedback on future guests. Click here to send us your suggested guests for November, and click here listen to the webinar replay.