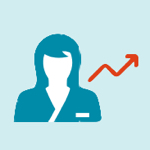 Tune into The Current State of Arizona's Healthcare Workforce and Efforts to Improve It. Vitalyst Health Foundation recently hosted an 80-minute webinar on the subject, and you can watch a recording of the presentation by clicking here. The presentation features commentary from the reports' author Joanne Spetz, PhD, as well as insights and thoughts on moving forward from webinar attendees, the University of Arizona's Will Humble and Vitalyst leadership.
Vitalyst, with support from the City of Phoenix, commissioned a series of healthcare talent surveys produced by the University of California at San Francisco (UCSF). Infographics and full talent assessments, Arizona's Healthcare Workforce: Supply, Demand, and Insights from the Field (2016), are now available for Hospitals (Infographic, Report), Community Health Centers (Infographic, Report), Long-Term Care Facilities (Infographic, Report), Home Health Agencies (Infographic, Report), and Employer Interviews (Infographic, Report).
The conversation will continue with a healthcare workforce solutions workshop on November 18, 2016, where we will be highlighting the report, discussing an array of solutions, and coming together to make these solutions a reality.  The workshop will be held at Desert Willow Conference Center in Phoenix, Arizona. Look for news on the workshop coming in October, and watch the webinar today.