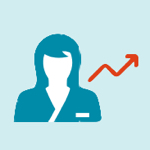 The health care sector continues to face a workforce shortage in Arizona. Addressing it effectively takes an understanding of the current situation, the forces shaping the future, and efforts already underway. To that end, newly-released reports are available now and a September 9 webinar is open for registration today.
The reports, commissioned by Vitalyst Health Foundation with support from the City of Phoenix, are a series of healthcare talent surveys produced by the University of California at San Francisco (UCSF). Statewide talent assessments are now available for hospitals, community health centers, long-term care facilities, and home health agencies. In addition, interviews were conducted with healthcare leaders to learn their plans and projections about how healthcare delivery is changing and impacting workforce needs.
The webinar, "The Current State of Arizona's Healthcare Workforce and Efforts to Improve It" takes place on September 9 from noon-1:30pm (Arizona Time). Join us as we summarize report findings, answer your questions, engage in dialogue and discuss several initiatives already underway as employers look to make better use of technology, develop training and education for healthcare talent, and improve recruitment and retention activities. Register today.