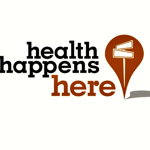 "We don't have a specific health policy per se, we have health in ALL of our policies." The city of Avondale's Daniel Culotta said a lot with only a few words in response to a General Plan question at the March 19 Arizona Healthy Communities Conference. In fact, he went to the heart of the matter. Health is created wherever we live, work, learn and play. So, all policies need to consider health rather than confine it to a narrowly defined subcategory.
Culotta and Avondale aren't alone. 275 people from housing, transportation, food, finance and health attended the Arizona Healthy Communities Conference. They learned from each other and accelerated the pace of cross-sector collaboration for improving health by focusing on the built environment.
City of Phoenix representatives presented on their General Plan too. Like Avondale, Phoenix sees health as an overarching focal point, one of three that form the platform for achieving the city's vision and informing its core values.
Conference keynote speaker Dr. Doug Jutte put it this way: "the doctor is out." After all, if health happens in our communities, then people who want to improve it had better get out there.