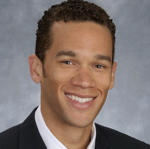 Vitalyst Health Foundation is pleased to welcome Marcus Johnson to its team as Director of State Health Policy and Advocacy on August 1. Marcus most recently served as the Director of Policy and Community Health at the Arizona Hospital and Healthcare Association. He also helped to create the Office of Public Health Policy within the Maricopa County Department of Public Health.
Marcus brings with him a strong track record from his experience addressing systemic issues that ultimately affect health. His contributions have led to significant policy and systems change in health care, behavioral health and public health – including the building of effective partnerships between the health care and public health sectors. He currently serves on numerous Boards, including the Arizona Public Health Association and Mental Health America of Arizona. Marcus holds a Master's degree in Public Health and a B.S. in Physiology from the University of Arizona.
He is well acquainted with our work, as a long-standing partner in both our health care and public health efforts. Join us in welcoming Marcus to the Vitalyst team.