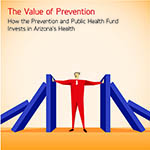 Beyond the headlines of "Obamacare Repeal and Replace" politics lie the details of legislation also known as the Affordable Care Act, including the Prevention and Public Health Fund (PPHF) that is the subject of our latest Vitalyst Spark Report. The PPHF annually invests $9.3 million in Arizona, enabling the state to better detect and respond to disease threats, increase vaccination rates, fight obesity, curb tobacco use, and increase access to preventive care.
That work is under threat if the Affordable Care Act is repealed, and it would leave Arizona with a major policy question of how to continue the largely invisible but critical work of combatting diseases like Zika, curbing the opioid epidemic, fighting skin cancer, and reducing other factors for chronic disease conditions that currently fuel increased health care costs.
Be part of an informed dialogue on what the PPHF is and does, why it matters, and the issues we'll need to consider going forward. Download The Value of Prevention: How the Prevention and Public Health Fund Invests in Arizona's Health today.