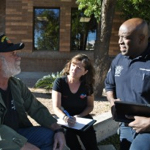 So far, the system-transforming work of community paramedicine in Arizona has been greeted as an idea with promising results and little assurance of financial sustainability. Programs have been supported by grants or cobbled together by partners. Community Paramedicine's innovative, cost-effective and health improving work hasn't been billable or reimbursable in the traditional sense. Until now.
Thanks to a partnership between the Arizona Department of Health Services (ADHS), the Arizona Health Care Cost Containment System (AHCCCS) and Emergency Medical Services (EMS) stakeholders, Arizona is on the cusp of launching a reimbursable "Treat and Refer Recognition Program."
Over the past seven months, stakeholders have collaboratively developed and honed a comprehensive manual detailing procedures and practices for obtaining Treat and Refer recognition that leads to reimbursement for such services rendered. The manual and application are available on the ADHS website, along with a link to the AHCCCS Provider registration page. The goal is for reimbursement to begin on October 1, 2016.
It's truly an exciting moment for Community Paramedicine in Arizona. "Treat and Refer" balances the established financial incentive of taking someone to the emergency room (a paramedic's only option for reimbursement currently) with an alternate payment incentive of reimbursement for simply treating someone where the person is and providing a follow-up referral.
As with any innovative project, the kinks will need to be worked out. But with "Treat and Refer," Arizona EMS personnel come one step closer to getting paid for achieving health care Triple Aim goals of (1) improving the patient's care experience, with (2) reduced costs and (3) better health outcomes.