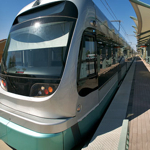 Is Arizona doomed to a sprawl-based future because of its car-centric development past? Not according to the numbers behind current Arizonans behaviors and desires.
Arizonans have started embracing other travel modes besides the car, and would like more options in the future. In July, the Arizona Public Interest Research Group publication Bikes, the Trains and Less Driving revealed a 10.5 percent drop in vehicle miles traveled and a 30 percent increase in per-person public transit passenger miles traveled between 2006 and 2012.  In August, the Arizona Transit Association published statewide polling results indicating that expanding or adding light rail and implementing a regional bus system were among Arizonans' top three priorities for transportation funding.
Multi-modal travel options support economic development, attract younger generations and the high-growth companies that employ them, and support Arizonans aging in place.  They also drive good health. As we noted before, a study of users revealed an average 6.45-pound weight loss just 18 months after light rail opened in Charlotte Carolina.
Planners and citizens of the past were all enthused about cars. Today, we've got to train ourselves to think, budget, and build differently.