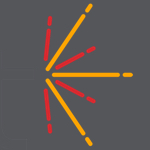 The Spark podcast debuts today, and we're getting into gear by talking about transportation.
If you've never heard of – or experienced – plays performed on light rail trains and their platforms, then be sure to check out our conversation with Rising Youth Theatre ensemble. The episode also includes our conversation with Plan-et Consulting's Leslie Dornfeld, giving us her thoughts on what's going on with walkability, livability and transportation more broadly across the state.
Our next episode on the future of transportation, including a discussion on autonomous vehicles with the City of Chandler, will be out soon. Join the conversation and get notified of each new episode by subscribing to the Vitalyst Spark Podcast today. First, choose a podcast app. Apple and Android phones both have free built-in apps (respectively called "Podcasts" and "Google Play Music"). Wired magazine details other great dedicated podcast apps for both platforms in their "The Beginners Guide to Podcasts." Whichever app you select, search for "Vitalyst Spark" and then choose "Subscribe."
Already subscribed? Download and listen to episode 1 today.