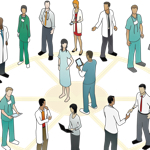 Accountable Care Organizations (ACOs) – emerging models of care delivery and payment – are an attempt to dramatically shift how health care is provided to reduce waste, improve quality and lower costs. The ACO movement was accelerated in 2010, when an ACO model was included in the Affordable Care Act (ACA), and Arizona-based ACOs began forming in 2012.
So how are they doing, and is their progress matching the promise of the model? Vitalyst commissioned lead author Palmer Evans – Executive-in-Residence at The Center for Management Innovations in Health Care, Eller College of Management – to find out.
Achieving the Promise of Accountable Care Organizations: Progress in Arizona is available now, as is an Executive Summary. Download them today. For more detailed information, please click here to access appendices and additional references.
On October 13, 2016, Vitalyst and the Hertel Report convened more than 200 attendees for An Afternoon with Arizona's Accountable Care Organizations, featuring a presentation by Palmer Evans and discussion with a panel of ACO representatives. Click here to watch the recorded proceedings in full.