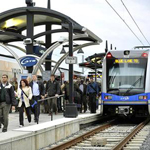 There's a recipe for weight loss and beating back obesity, and it calls for you to ride the Light Rail.
It's no gimmick. In 2010, researchers were smart enough to conduct pre- and post-light rail research on neighborhoods in Charlotte. Twelve-to-eighteen months after light rail started, riders had reduced Body Mass Index (BMI) measures equivalent to 6.45 pounds vs. non-riders. Their analysis concluded that light rail users were 81% less likely to become obese over time.
The study's authors also indicated that we should "encourage public policies that improve the safety and attractiveness of pedestrian environments that link home, work and transit stops to increase use of public transit for commuting."
It comes down to this: active transportation – any combination of walking, cycling and public transit – incorporates physical activity into everyday life while reducing negative air quality impacts. Mesa's current line extension, plus calls for rail to triple in length and connect to proposals like the Tempe Modern Streetcar are all good signs for health. Ultimately, light rail looks like the little engine that can help build and sustain healthy communities.
When Valley Light Rail debuted in 2008, it seemed to carry the weight of the world on its shoulders. But now, maybe not so much.