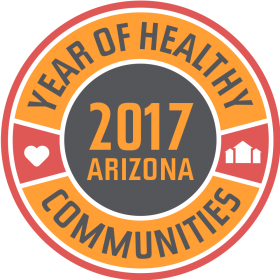 The Year of Healthy Communities has started, and judging by the response so far, the time has never been better to celebrate and connect statewide resources and efforts in order to improve well-being in Arizona.
On January 15, the Year's website launched at livewellaz.org. Built around sharing partner work, events and resources, the site features a clickable Elements of a Healthy Community wheel that the collaborative is setting in motion with your help. Throughout the year we'll focus on compiling resources and projects so that cross-sector collaborators can discover and connect with each other. Visit the site to learn more about the wheel, submit organizational expertise, and promote events.
On January 25, we piloted our first community workshop with the communities of Yuma, San Luis and Somerton. The interaction and feedback was compelling, as was the feedback from the diverse and insightful audience. We are preparing for more workshops to come in the next few months. If you'd like a workshop, connect with us.
2017 is our year to identify, connect and build together towards improved health and well-being. One month in, we thank you for your engagement and contribution, and we look forward to eleven more months of dynamic progress that help us to be more successful together.