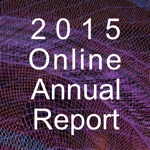 What's new about SLHI's 2015 fiscal year that ended June 30th? In some ways everything is. In other respects, our commitments to healthy communities remain quite familiar. Take a look at our newly-released online Annual Report to see what we mean.
Through 19 years as an independent health foundation, SLHI has developed and grown as a catalyst for community health. Our day-to-day work and strategies have evolved dramatically and sometimes surprisingly. However, the commitment to our vision and mission has only deepened and intensified.
From the report's main page, you'll get direct access to some of the highlights of our work in Access to Care and Coverage, Healthy Community Design, Community Capacity Building and Collaboration and Innovation. Of course, you'll also get access to summaries of our financials, Community Partnership grants and Medical Assistance for the year.
No matter what changes from year to year, one thing stays the same: our commitment to improving health and well-being for all Arizonans.