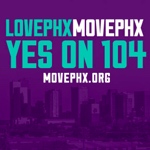 The St. Luke's Health Initiatives Board of Trustees has voted to endorse passage of Proposition 104, the "all of the above" strategy for improving Phoenix's transportation infrastructure.
Why is a health foundation getting involved with – let alone endorsing – a transportation proposition? Because how we design and build cities directly impacts residents' health. Something as simple as an increase in daily walking has been shown to trigger weight loss and drastically reduce the risk of obesity. Other studies are just as clear, whether they're demonstrating the contribution of commuting stress to chronic health problems, or how air quality issues that impact health and quality of life.
Phoenix voters will have a choice on August 25. Proposition 104, also known as Move PHX, represents a chance to not just fill some potholes, pave roads, extend light rail, improve sidewalks and build bike lanes. It's also a moment for voters in the City of Phoenix to choose health in their neighborhoods for the long run. For more information about this measure, go to movephx.org.