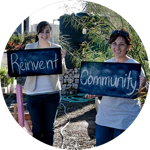 Vitalyst Health Foundation, the City of Phoenix and Arizona State University have partnered to implement a Department of Housing and Urban Development grant with the goal of reimagining – and redesigning – parts of the Phoenix urban area. Reinvent PHX is working with community partners along the light rail system to create action plans to improve the quality of life for all residents.
Neighborhoods along the rail line have been grouped into five districts according to their character.  Vitalyst's primary role is in ensuring that community health is explicitly addressed for each district and in all facets of the project – whether in community outreach, developing an understanding of existing conditions, making recommendations or pursuing improvements.
What's Happening Now:
Using a thorough community engagement process, groundbreaking Health Impact Assessments have been completed for each of the five districts. See the:
As part of Reinvent PHX, Vitalyst created several "toolkits" and an issue brief that can be helpful to other neighborhoods and communities interested in integrating health into long range planning.
In partnership with the City of Phoenix, each district is hosting steering committee meetings.