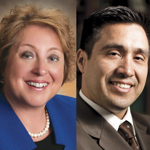 It looks like others in the community feel the same way we do.
St. Luke's Health Initiatives President and CEO Suzanne Pfister and Board of Trustees member Javier Cardenas have both been named to the list of 2014's "Most Admired Leaders" by the Phoenix Business Journal.
The Journal combines the consensus of an advisory board with research and input from its publisher and newsroom to determine which individuals deserve to be named "Most Admired Leader." Each of these top-level executives understands that being a good leader is more than just "running" an organization—it's also about being the kind of person others want to follow.
Prior to joining SLHI, Suzanne was responsible for federal, state, local and governmental relations and outreach in her role as Vice President of External Affairs for Dignity Health Arizona. While serving on SLHI's board, Javier continues his statewide leadership as Director of the Barrow Concussion Network, and as Barrow Neurological Institute Director, B.R.A.I.N.S. Clinic, St. Joseph's Hospital and Medical Center.
This year, Suzanne and Javier join 23 other Valley executives who have shown that they have what it takes to create positive relationships and lead high-impact organizations. We celebrate the work both have done for our community and are grateful for their strong leadership with SLHI.