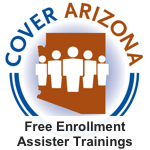 While the news about increasing access to coverage and care has been great, there's still a lot of work left to do. This year's open enrollment for the Health Insurance Marketplace runs from November 1 to January 31. To get Arizona ready, The Cover Arizona Coalition is co-hosting free two-day Enrollment Assister training sessions in four cities across the state.
In partnership with the Centers for Medicare and Medicaid Services and the Department of Health and Human Services, the trainings are for anyone who will serve as an enrollment assister for the Health Insurance Marketplace. They are scheduled throughout the second half of October in Tucson, Yuma, Flagstaff and Phoenix. Click here for dates, details and the event registration link.
The latest Census Bureau data points to more than 900,000 Arizonans without coverage. During open enrollment, another 200,000 will face choices of renewing their coverage. The task ahead is not small by any measure, which makes it a good thing that the Cover Arizona Coalition and these trainings are here to help. Let's get this year's enrollment assisters registered for training today.