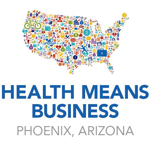 Join the U.S. Chamber of Commerce, the University of Phoenix College of Health Professions and the Phoenix Chamber of Commerce for an important afternoon dialogue on the links between health and economic opportunity.
The Phoenix "Health Means Business" event is part of a national campaign sponsored by the Robert Wood Johnson Foundation.
Get into the room with business and community leaders, starting at 1:30pm, at the Hyatt Regency Phoenix (the same location hosting Arizona Forward's "Building Healthier Communities for Healthier Lives" event). Click here for more details and register for your seat today.