Vibrant communities are the result of paying attention to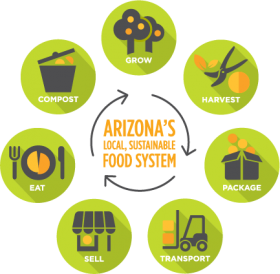 everyone's basic needs from a health perspective. In this regard, access to healthy foods is critical. Many stakeholders have focused on food. Efforts have sprung up throughout Arizona with the goal of producing sustainable, local, healthy food resources in areas of production, distribution, recycling and more.
Based on successful work in other communities, Vitalyst Health Foundation joined with initial partners to co-develop The Maricopa Food System Coalition. The Foundation provided the convening capacity and contracted with an experienced facilitator. The coalition is working to coalesce, connect and leverage the work of more than 150 partners towards mutually beneficial goals.
Four core values unite the coalition of diverse partners: (1) equity, (2) health, (3) sustainability and (4) the capacity for communities to thrive.
Our cameras were on hand for the meetings that started it all:

Learn more about the coalition at marcofoodcoalition.org, follow the coalition on Facebook, and inquire directly about becoming a member here.