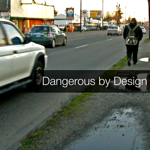 When streets are killing us faster than natural disasters, the time has come to change how they connect people, commerce and places. And in mid-June, Phoenix city council may get that opportunity.
According to Smart Growth America's Dangerous by Design, a decade of hurricanes, floods, tornadoes and earthquakes didn't stand a chance compared to the threat of the everyday city street. Between 2003 and 2012, 16 times more pedestrians were killed on U.S. streets as compared to the number who died from natural disasters. On average, someone on foot was hit by a car about every eight minutes over the course of ten years. The report ranked the Phoenix-Mesa-Scottsdale area as the ninth most dangerous in the country using its Pedestrian Danger Index (PDI).
Currently, city staff are working diligently to prepare two ordinances in support of future Complete Streets guidelines that address pedestrians as they balance accessibility, mobility and safety for all. Staff and the Phoenix Complete Streets Working Group will be presenting the ordinances at the City Council Transportation and Infrastructure Subcommittee on June 10. If all goes well, the ordinances could be voted on by the full city council on June 18.
Projects like Reinvent PHX, Greening Lower Grand Avenue and the downtown First Street improvements (cited positively in the Dangerous by Design report) prove that Phoenix has already begun the process of thoughtfully conceiving and realizing a more balanced street design approach, but there is more yet to do. Council support of the proposed Complete Streets ordinances would represent an important change in municipal policy, and a vote in the direction of improved health and well-being for all residents.