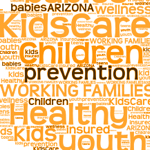 Arizona is joining every other U.S. state by unfreezing its Children's Health Insurance Program. Starting July 26, KidsCare will begin accepting applications for coverage that starts on September 1. The program is back thanks to the advocacy of the Cover Kids Coalition, extensive community and business support, some extraordinary late-session legislative actions and Governor Ducey's signature.
KidsCare is the answer for parents working hard to take care of their kids but still struggling to keep health insurance from breaking the family budget. It's estimated that 30,000 children may be eligible. Families with incomes earning up to $48,600 for a household of four will now be able to cover their kids for monthly premiums ranging from $10-$70. Full eligibility information is available by clicking here.
Spread the word. Families with questions can call the Cover Arizona Answer Line at 1-800-377-3536 starting July 25, and can use Arizona's Get Covered Connector to find and schedule a convenient and free enrollment assistance appointment.
Our kids are Arizona's future. They need coverage and care during the critical years of their growth and development. Here's to everyone involved in making that coverage a reality for more children through KidsCare.