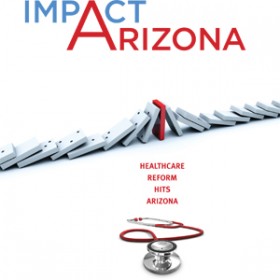 ImpAct Arizona: Healthcare Reform Hits Arizona, is now available online.
This multi-author report prepared by SLHI covers selected highlights of the federal Patient Protection and Affordable Care Act (PPACA) and the opportunities and challenges they present for our state.
Whatever the pros and cons of the Act and its future in a polarized political climate, we think there are good reasons for the state to become actively involved in aspects of its implementation:
The Act encourages local experimentation, involvement and control. Arizona has always championed independence and innovation. There are opportunities to pursue that vision here.
The Act provides resources for health system planning and infrastructure. Regardless of the Act's political future, Arizona needs to be engaged in comprehensive health system planning such as workforce, technology, integrated care and other areas.
The Act provides opportunities for Arizona to improve its patchwork of state health and healthcare programs, the state's data analytic infrastructure and local-state/public-private partnerships.
Don't toss out the good stuff with the questionable. The tent is big enough for a diversity of views and approaches. We laid out a vision for a value-based health care system three years ago that we believe is worth pursuing. Get involved in health system reform today.