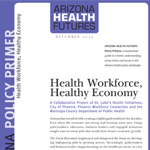 Arizona wants a more highly-paid workforce. Arizona needs more health care professionals. The intersection of those two thoughts drove a new partnership and publication.
Health Workforce, Healthy Economy is a Policy Primer assessing health care workforce needs statewide. The Phoenix Healthcare Sector Workforce Partnership includes the Greater Phoenix Chamber of Commerce, the City of Phoenix, the Maricopa County Department of Public Health and SLHI among more than 150 partners focused on solving the health workforce puzzle.
Success would produce a picture that makes quality care accessible while creating high-paying jobs. The old saying that "nothing worth doing is ever easy" applies here. Health Workforce, Healthy Economy provides key insights and data. It delves into both answers and questions. It also details what we don't know.
The partnership's vital work continues with leadership from the Greater Phoenix Chamber of Commerce. You can plug in by connecting to one of five different working groups digging into:
Continued workforce needs assessment, including development of a new statewide survey.
Creation of a pipeline for healthcare workers within the K-12 education system.
New strategies and incentives to encourage workforce gains in medically-underserved areas (geographical and profession-specific).
Advanced health professional training for physicians and nurses.
How we alter health professional training to address evolving workforce skills (like being more team-based and better integrating care).
Get connected today. Complete a brief online form and the Partnership will be in touch.