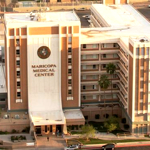 Maricopa County voters in November's election face the choice of voting on Proposition 480 to modernize the Maricopa Integrated Health System (MIHS). What's at stake? Perhaps more than you realize.
MIHS serves a crucial role in addressing our doctor shortage, training more than 400 recently-graduated physicians to help keep them in Arizona for their careers. It is home to a world-renowned, ground-breaking burn center – the only one in Arizona verified by the American Burn Association and the American College of Surgeons. It plays a key part as public safety net hospital for the uninsured. It's not an understatement to say that MIHS is an important health care system asset, even as it operates out of an outdated and outmoded facility.
Proposition 480 proposes to modernize, "right size" and position MIHS for the future. Passage would fund a new but smaller hospital, as well as a distributed network of neighborhood care clinics. It may be the county's most scrutinized hospital plan in years, featuring public meetings, a formal planning committee, and outside consultant analysis.
St. Luke's Health Initiatives supports passage of Proposition 480, based on hearing opinions from both sides and evaluating the plan's pros and cons. But don't take our word for it. Do your own homework, and consider how to vote. Then make sure you vote, because no matter which way you decide to go, civic participation itself has a way of making people healthier.