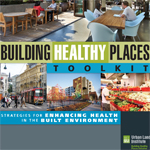 If we want to intentionally build health into our community fabric, then where – and how – do we start? It never hurts to know what the evidence-supported options are, and the Urban Land Institute has released a toolkit packed with 21 of them.  You'll find it here.
Just by dipping into the report's introduction you'll get a look at how the 21 recommendations can be applied to master planned, multifamily, mixed use, office, industrial, single family and retail environments. From there, the toolkit is organized to give users easy access to recommendations on physical activity, healthy foods and drinking water, and healthy environments and social well-being. Not only will you get strategies, but also case studies and testimonials.
2014 Arizona Forward Stewardship Summit keynote speaker Dr. Richard J. Jackson weighs in as well noting, "health happens not in your doctor's office but where you live. Our high-cost medical system is mostly ineffective in creating healthfulness. We can't change our genes, but we can create good places, homes, and communities that make it easier for us to be more active, happier, and healthier."
To help make Arizona healthier, we've got to make ourselves smarter and more aware about how the world around us influences and impacts our daily choices. You can count on ULI's toolkit to help.