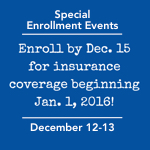 The Cover Arizona Coalition is working to give as many people as possible the option to get insurance coverage that starts on January 1. For consumers, that means timely, focused and well-staffed enrollment events in Phoenix, Mesa, Case Grande, Tucson, Yuma and Flagstaff to help people complete their enrollment.
Any consumer who completes enrollment by December 15, 2015 will gain insurance coverage on January 1, 2016. It's not just about the law, it's about health, economic stability in the face of potential medical costs, and the well-being of Arizonans statewide.
Spread the word. It's going to be a big weekend for increasing coverage, and the details can be found at coveraz.org.