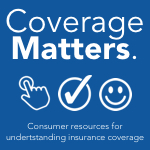 Getting – and understanding – health insurance is no small task. There are new terms, instructions, and practices to understand. Insurance basically needs its own "quick start" guide and owner's manual, and a number of resources are available to help. That's why the Cover Arizona Coalition has devoted a portion of its website to Coverage Matters.
Coverage Matters provides links to the resources that coverage assisters have found most valuable in helping newly insured people understand health coverage. Resources will be added over time, organized into three key categories:
Choose Well includes information for choosing a plan that's right for you and what kinds of low- and no-cost coverage are available in Arizona. Of course, the coalition recommends that people selecting coverage for the first-time use free in-person assisters available through the Get Covered Connector.
Use it Well provides links related to things like understanding your insurance card, prescription medications, and provider networks.
Be Well tackles the important issue of keeping your coverage from year-to-year.
Every page includes troubleshooting tips for things like completing your enrollment, and an application checklist for the Health Insurance Marketplace and AHCCCS, Arizona's Medicaid provider.