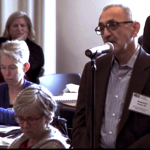 Without question, health is developed in the community. So it makes sense for healthcare practitioners to focus on health improvement by more effectively connecting in the community. And that's where a little reinvention and wisdom can help, thanks to Community Health Workers (CHWs).
Look no further than two key articles from Health Affairs to get the latest. First, Judy Phalen and Rebecca Paradis deliver the crucial January 2015 development that the Centers for Medicaid and Medicare Services (CMS) will now reimburse services provided by CHWs. Going a little deeper, Alan Weil offers his reflections from the November 2014 symposium "Community Health Workers: Getting the Job Done."
SLHI is no stranger to Community Health Workers and their future prospects for transforming health care. In fact, we look forward to releasing an upcoming Policy Primer in Spring of 2015 that's been developed thanks to the efforts of practitioners, advocates, and policy influencers statewide.
There are a number of factors at work to build momentum for the rise of Community Health Workers as keys to improving community health. On one end of the spectrum, consider the policy and procedural shifts triggered by the Affordable Care Act. On the other end, tapping into the culturally-connected, community-informed people who call themselves Community Health Workers just makes common sense.