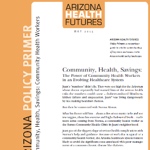 Arizona's health care system is under a number of pressures. They include the unique challenges of a "graying" population, the prevalence of chronic conditions like diabetes and heart disease, and significant cultural and ethnic shifts. There is a proven part of the solution for each of these pressures: the Community Health Worker (CHW).
St. Luke's Health Initiatives, in partnership with the Saguaro Evaluation Group, has produced Community, Health Savings: The Power of Community Health Workers. It is a primer for stakeholders and policy makers that documents past performance as well as the future potential for more cost-effective health improvement by certifying and compensating CHWs.
More than 800 recognized CHWs are already providing Arizonans with a variety of services within the continuum of care. They bridge communities to health providers. They have proven their ability to solve difficult patient compliance issues. They deliver culturally-appropriate care coordination. However, they have yet to be given professional certification, a workforce infrastructure and a more formalized, reimbursed compensation.
Decades of CHW practice has provided insights into these workers' potential. However, a more significant positive impact awaits. Once CHWs become more formally integrated into health care, they can truly be tapped for their unique strengths and abilities.
Learn more. Download the Primer today.