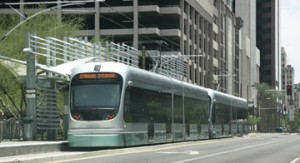 Reinvent PHX developed through a federal Housing and Urban Development grant with the goal of improving five neighborhood districts along the light rail. The project was a close collaboration with the City of Phoenix and Arizona State University. Vitalyst played to its strengths: we directly engaged residents in a series of community-driven design sessions and developed plans that recommended area improvements from a health and well-being perspective.
Vitalyst implemented its work using the Health Impact Assessment (HIA) discipline. HIAs assess the health impacts of conditions, plans and policies through a process that combines community and data inputs to produce recommendations. They also protect against inadvertent negative effects from a neighborhood infrastructure change. Light rail has already produced an economic boon. Reinvent PHX positions light rail to additionally improve health and well-being.
Reinvent PHX bolstered plans for more walkable, bikeable and transit-friendly improvements that are coming to fruition along the Grand Canal, 3rd Street, and Van Buren Street. It sparked development and approval of a ground-breaking Walkable Urban code. Beyond the tangible outcomes, Reinvent PHX transformed city thinking and daily work in ways that will yield a more livable Phoenix. It offers a framework to developers and other municipalities statewide.