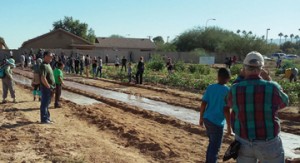 Concerned residents have been at the heart of Cultivate South Phoenix (CUSP) since 2012. For four years stakeholders have rallied themselves, tapped into resources, and innovated time and again – thanks to a combination of determination, hard work and Vitalyst's capacity building technical assistance.
Now a coalition of nonprofits and residents, CUSP is fearlessly bringing ideas to life by asking for and then transforming all manner of resources into powerful community building assets. Their initial TAP group helped them organize and dream big. Wrap-around consulting facilitated CUSP's focus on goals and strategies. CUSP became a TAPAZ fiscal sponsorship project in 2015, accessing grant application assistance and the full financial management, resources and standing of TAPAZ.
A Vitalyst Health Innovation Grant provided capital that has been matched and may likely be far surpassed by investments from arts and culture, government, business, and other philanthropic funders. It is a strong compliment paid to CUSP's rapid evolution that funders now see a solid organization and the promise of its most ambitious effort so far: Spaces of Opportunity.
Spaces is an 18-acre parcel of land where CUSP is "activating South Phoenix's deep agricultural roots" with a community farm, food distribution hub, recreation opportunities, and arts and culture events. The vision is a big one, and the work of activating residents is well underway. A community-driven master plan has been completed. Fifteen irrigated acres enable community gardeners to prepare their next harvest. The community is growing – through the land, art, music and cross-cultural celebrations. The seeds of new opportunities are being planted, nurtured and harvested.