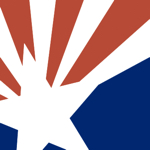 The results are in. Our uninsured rate continues to decline and access to affordable, quality health care is becoming a reality for many Arizonans.
Vitalyst Health Foundation and the Center for the Future of Arizona are key partners in advancing the goals that Arizonans have for solutions to the healthcare challenges that confront us.  The Center's weekly brief, AZ Snapshot, highlights challenges facing Arizona. This week, the brief featured one of the most challenging issues of our time — health care and what's happening at both state and national levels.  Using data from a recent Gallup Poll, the brief outlines current insurance coverage across the state.
With many issues that affect health, and more healthcare updates to come, we encourage you to subscribe to AZ Snapshot and to share it with your colleagues.