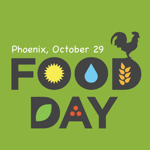 October 29, 2016 is Phoenix Food Day, and there are a few food ways to celebrate with the Maricopa County Food System Coalition.
The first is to join in a special day at Pilgrim Rest Baptist Church, the official site of Phoenix Food Day, on October 29 from 9:00am-2:00pm. Last year nearly 3,000 turned out for the event. This year promises cooking and gardening demonstrations, live music, health screenings, and a variety of exhibitors. Learn from local chefs how to make quick, easy and delicious meals, join the kids as they tackle the Fantastic Food Fitness Challenge, or be a part of the annual FitPHX Apple Crunch at noon, as we try to set a record for the most apples simultaneously crunched in downtown Phoenix. Either way, be there. Click here to learn more.
The second is to connect with an upcoming local food assessment, made possible by a recently-awarded grant from the Gila River Indian Community (GRIC). The food system survey will collect data from across Maricopa county and portions of Pinal county. The landscape this work will reveal is an important step forward in realizing the Maricopa Food System Coalition's goal of achieving an equitable, sustainable, healthy and thriving local food system. To play a part, click here to learn more about the coalition and sign up to become a member.
The third is to expand your thinking about food. "Healthy Eating: What's Transportation Got To Do With It?"  was published in Green Living AZ magazine's October issue. Read it today, and discover the recipe for repairing the links between food, transportation and health.