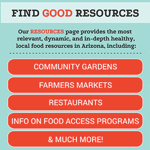 Hippocrates is famous for the phrase, "let food be thy medicine." Through goodfoodfinderaz.com, Local First Arizona Foundation is providing directions to your closest dispensary.
Good Food Finder currently tracks 141 farms, 69 farmers markets , 65 community gardens, 27 Community Supported Agriculture operations, and 18 community kitchens. It has details on 110 school gardens. Based on those numbers, access to locally-produced foods isn't just a trend. It is a substantive movement.
Good Food Finder began in 2011 with a W.K. Kellogg Foundation research grant. Today, Local First Arizona Foundation (the nonprofit sister organization of Local First Arizona) provides the considerable work of maintaining and growing the extensive directory.
Access to this food is a starting point for good health that doesn't require a doctor's office visit. It is also a component of statewide economic sustainability and resilience. Support Local First Arizona Foundation's work. Connect to food that is a great prescription for living a healthier life and supporting Arizona's local economy. Visit goodfoodfinderaz.com today.