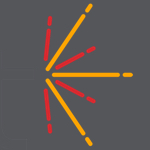 Get ready. The Vitalyst Spark Podcast is almost here. Starting in October, we'll be featuring conversations, explorations, views and news that help stimulate change and improve community health.
Wherever you live, work, learn, or play, we'll be looking at environments, systems and policies from new angles – and revealing insights that make it so "you can't unsee" the health opportunities we've been missing. Along the way we plan to engage you, make you think and have a little fun while doing it.
Take steps to join us by subscribing today. First, choose a podcast app. Apple and Android phones both have free built-in apps (respectively called "Podcasts" and "Google Play Music"). Wired magazine details other great dedicate podcast apps for both platforms in their "The Beginners Guide to Podcasts." Whichever app you choose, search for "Vitalyst Spark" and then choose "Subscribe." You'll be notified each time a new episode is available.
Our two-minute teaser episode debuts today, and gives more detail as to what the podcast is all about. Subscribe, enjoy the teaser and get ready for our first episode as we explore the relationship between transportation and health.