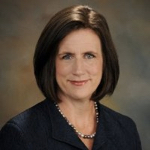 It's time to celebrate a true champion. Children's Action Alliance is honoring SLHI's Kim VanPelt as its 2016 Champion for Children.
Kim has spent much of her career working to improve the quality of life for Arizona families through expanded health coverage and better public health policies. A longtime adviser on public health issues, Kim's experience includes work in Arizona state government, including at First Things First and the Arizona Department of Health Services.
With St. Luke's Health Initiatives, Kim has done tremendous work, including her convening and leadership of the Cover Arizona Coalition, which counts 1,000 members statewide and has helped expand health care coverage to hundreds of thousands of Arizonans over the last three years.
The best word to describe Kim's work ethic is "tireless." In the face of every challenge, Kim always keeps her eyes firmly focused on the goal. She works incessantly to realize every opportunity for progress. She stands up taller and works even harder when others feel like giving up. It is this dedication – to all of her work in general and to children in particular – that has made her so well-known and respected in the community, and so deserving of this honor from Children's Action Alliance.
Congratulations Kim!