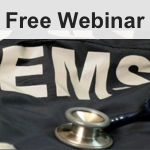 In health care improvement circles, the most-coveted ideas satisfy "the Triple Aim:" (1) improving patient outcomes and satisfaction, (2) improving population health and (3) reducing costs. Given its plan to satisfy all three, Mobile Integrated Health has the potential to be a home run, and the recording from a free September 29 webinar is available for you to learn more.
Mobile Integrated Health proactively mobilizes care personnel and resources to meet patients where they are. The goal is to help them live healthier lives, while reducing the number of costly paramedic runs and hospital emergency department visits in the process.
Scottsdale, Mesa and Chandler are three cities investing in Mobile Integrated Health, and Vitalyst Health Foundation partnered with The Arizona League of Cities and Towns to help share the concept statewide.
On Tuesday, September 29, 2015, Mobile Integrated Health: What is it? How Can It Improve Health Using Resources Cities and Towns Already Have? webinar was presented. We heard directly from Mesa, Chandler and Rio Rico practitioners about how Mobile Integrated Health is improving care quality and resource use while lowering system costs. The recording of the September 29th webinar is available by clicking here.