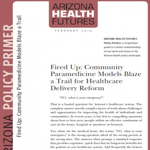 The "911, what is your emergency" operator's question often turns out to be a loaded one for the healthcare system. The complete answer unveils complex layers of truth about challenges and opportunities for improving the health of individuals and communities.
In recent years, first responders and health providers have been asking their own questions about how to best serve people within an effective continuum of care. The answers they are coming up with have helped to create a practice called Community Paramedicine that is compelling in the results it is producing. Arizona is leading the way with fire service-based community paramedicine efforts in Mesa and Rio Rico, and SLHI is releasing a new Policy Primer on the overall progress of this approach in Arizona.
Community integrated paramedicine – or "community paramedicine" for short – engages paramedics and other healthcare providers outside their customary emergency response and transport roles in ways that facilitate more appropriate use of emergency care resources. Community paramedicine is an evolving practice that inspires hope for reducing trips to hospitals, improving the quality of life for patients, and reducing health care costs.
SLHI has worked closely with the Arizona Fire Chiefs Association and the Arizona Department of Health Services to compile an environmental scan of fire service-based community paramedicine efforts throughout Arizona. The culmination of this work is the production of the current policy primer Fired Up: Community Paramedicine Models Blaze a Trail for Healthcare Delivery Reform.
While creating the primer, we were continually excited by the breadth and depth of innovation and potential improvements Community Paramedicine can offer. Reading the primer, you'll likely wonder why nobody thought of it sooner.