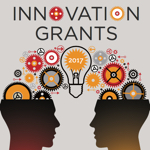 Through every step of our grant process, our goal is innovation and our process is grounded in collaboration. The process for 2017 awards starts now, and we invite interested applicants to view a recording of the orientation sessions from September 9, 2016.
Vitalyst Health Innovation Grants help organizations turn creative ideas for addressing complex systems and social issues into collaborative, innovative, and sustainable solutions.  We are seeking proposals that plan to actively reduce structural and/or systemic gaps in access, outcomes, opportunities or treatment.
At Vitalyst, we define community innovation as "a breakthrough in addressing a community issue that is more effective, equitable or sustainable than existing approaches." It is a process that (1) meaningfully engages key stakeholders, (2) willingly shares ownership and decision-making among partners, (3) creatively uses existing community resources and assets, and (4) openly uses an ongoing process to test and implement solutions.
To start a conversation with staff please contact InnovationGrants@VitalystHealth.org with your request. To learn more about our process for submitting a letter of intent, please visit our Letter of Intent page on the website.  For more insight, please view the videos of recently funded projects on our YouTube Channel